United Nations World Oceans Day 2022
26 mai 2022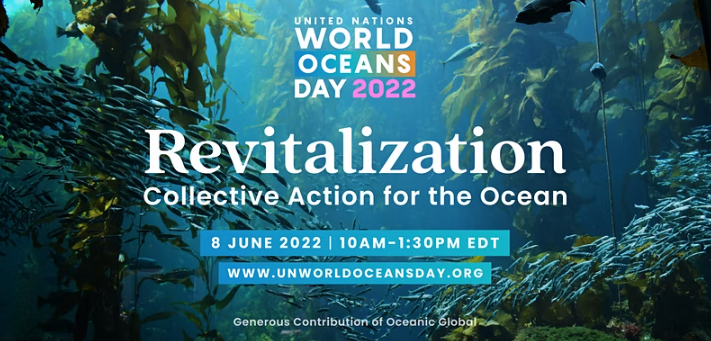 Le 08/06/2022
This year's 2022 United Nations World Oceans Day (UN WOD) celebration will be taking place on Wednesday 8 June 2022 around the theme Revitalization: Collective Action for the Ocean.
United Nations World Oceans Day is hosted by the United Nations Division for Ocean Affairs and the Law of the Sea, Office of Legal Affairs (DOALOS) with the generous contribution of Oceanic Global .
This year's celebration will be adopting a hybrid format, featuring an in-person event at the UN Headquarters in New York and a virtual broadcast. We invite you to Save the Date and join us for the virtual broadcast of this globally-reaching event. If you would like to join us in-person, please register your interest in attending by completing the registration form.

The ocean connects, sustains, and supports us all—but its health is at a tipping point. As the past years have shown us, we need to work together to create a new balance with the ocean that no longer depletes its bounty but instead restores its vibrancy and brings it new life.
The programming will shed light on the communities, ideas, and solutions that are working together to protect and revitalize the ocean and everything it sustains.

— Nature-based Solutions
— Science & Innovation
— Cross-sector & Cross-discipline Collaboration
— Biodiversity & Resilience
— Local & Indigenous Knowledge
— Community & Collaborative Efforts
— Blue Economy, Responsible Management & Finance


Since its inception in 2008, United Nations World Oceans Day (UN WOD) has celebrated the ocean and its importance to the planet and our lives, while raising awareness about the many threats it faces. As the challenges to the ocean continue to grow, so does the need to understand and mobilize globally.
Source: United Nations