The Global Blue Economy Business Conference
8 décembre 2020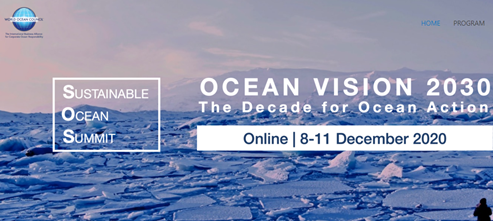 Du 08/12/2020 Au 11/12/2020
À Online,
The World Ocean Council (WOC) – the Global Blue Economy Business and Investment Organization – pioneered the creation of a global, multi-sector leadership alliance on ocean sustainable development. The WOC Network includes 35,000+ ocean industry and finance stakeholders from across the sectors and around the world.
The WOC Sustainable Ocean Summit (SOS) has, since 2010, been the preeminent gathering of the global Ocean Business Community and Investment Community to advance private sector leadership, collaboration and action on Corporate Ocean Responsibility.
The SOS 2020 will again connect the diverse international Blue Economy industry and investment world to focus on the coming "Decade of Action" for sustainable development. Together we will explore the topics and develop the workplans for implementing the Sustainable Development Goals for the ocean.
SCHEDULE
Ocean Action is the focus of the SOS 2020. Each session will be a working meeting focused on a key issue and identifying priorities and developing outputs to drive industry and investment action on the issue for the year to come.
Each session will address:
The status of the issue and developments during the past year
The priority needs and opportunities for ocean business and investment community collaboration and action on the issue
What could and should be undertaken on the issue in the coming year (and the role of WOC in advancing that progress)
Program Time Zone – GMT
CONFERENCE DAY 1: TUESDAY 8 DECEMBER
ARICE Project Meeting: Industry-Science Cooperation for Safe and Sustainable Arctic Operations
U.N. Decade of Ocean Science: Data Collection and sharing by industry ​
CONFERENCE DAY 2: WEDNESDAY 9 DECEMBER
Arctic Sustainable Development: Changing Conditions and Shipping Risk​
UN Law of the Sea: Industry Input to BBNJ Treaty
CONFERENCE DAY 3: THURSDAY 10 DECEMBER
Port and Coastal Infrastructure Adaptation: Business and investment action
Ocean ESG: Responsible Investing in the Ocean
CONFERENCE DAY 4: FRIDAY 11 DECEMBER
Biofouling and Invasive Species – Engaging Industry Over the Long Term